A real winter warmer
Customers had a festive treat last week as winter parties took place in both Greenock and Port Glasgow.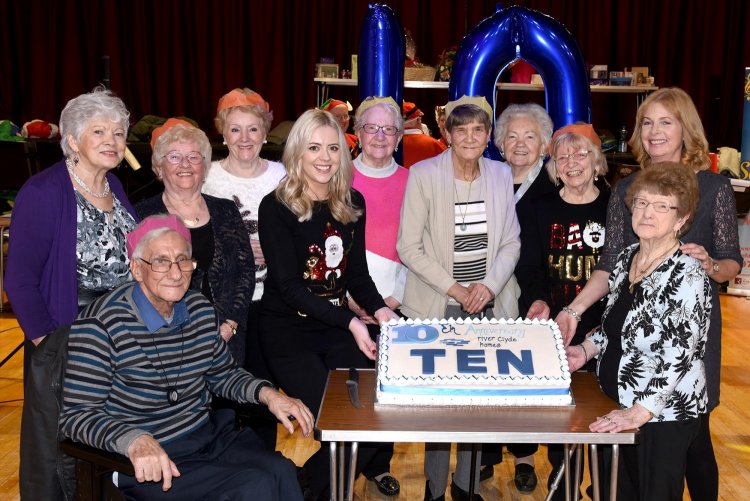 11 December 2017
Over 300 customers, aged over 75 and those living in sheltered housing complexes, enjoyed winter tea parties last week, whilst being serenaded by the dulcet voices of the Clydeside Singers. The more energetic partygoers enjoyed a spot of dancing to classic songs from Glen Miller and Vera Lynn with some smooth dance moves being revealed from both customers and staff.
This being River Clyde Homes' 10th anniversary month; giant celebratory cakes were created for each event by renowned local bakers Aulds and shared amongst the guests.
Amongst the revellers enjoying the festive atmosphere was Mrs Lee of Port Glasgow, who attended with her husband. She said: "We enjoyed the party very much indeed and had a lovely time. We won a hamper in the raffle and wanted to say thank you so much."
"We cannot underestimate the importance of bringing everyone together for events like this," explained Sandra McLeod, Executive Director of Customer Services. "At River Clyde Homes we value the strong community spirit within the areas we serve and understand the challenges some customers face getting out and about in the community due to their age or specific needs."
Sandra added: "These tea parties are a great way to help our more mature residents and those in sheltered housing celebrate together and for us to get to know them a little bit better I would like to thank local organisations: Inverweld, Beacon Arts Centre, Future Skills Inverclyde, Robert Alexanders, Murrays Florist and L&D for their donations and support."