Before it's spent, pay your rent
The introduction of Universal Credit has resulted in a single monthly payment for people in or out of work that is paid directly into their bank accounts. This is, understandably, proving to have a considerable impact on customers and River Clyde Homes wants to ensure that their customers have the best opportunities to prevent them from falling into financial hardship and building rent arrears.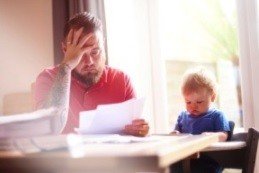 28 April 2017
As part of the campaign staff will be writing to and visiting the homes of customers who are in arrears, ensuring that they get the support they need and also the benefits they are entitled to. The new Customer Experience team will be making calls in the evening to customers who are in arrears, offering help and advice. Customers are encouraged to contact River Clyde Homes as soon as they find themselves having problems paying their rent as non-payment can lead to eviction.
River Clyde Homes offer a range of support services which can help customers manage their money, making it easier to pay their rent and stay out of debt. The Financial Wellbeing Team can provide free, confidential advice on a wide range of welfare rights issues including income maximisation. In the past year the Financial Wellbeing Team has assisted 647 customers in achieving over £1.4 million in additional benefits.
Stevie McLachlan, Head of Customer Services (West) said; "River Clyde Homes is here to help any customers who find themselves in rent arrears. To allow us to continue to provide services, it is important that customers pay their rent. Anyone having problems paying their rent who does not engage with us must be aware that we have robust procedures in place that will be followed should they not pay their rent or tackle their arrears."
Vice Chair of the River Clyde Homes Board, Jillian Moffat, said: "We want to send a strong message to our customers. Your rent is the most important bill you should pay. Not only does this ensure that you are keeping your tenancy safe but it allows River Clyde Homes to maintain and develop the services it provides to customers. We will support any customers who have fallen into arrears."
If you need help; contact: customerexperience@riverclydehomes.org.uk