Big hearts, warm hands
Knitting craft helps dementia sufferers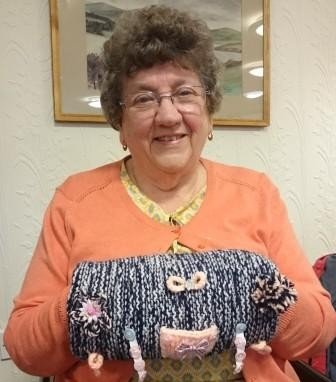 17 November 2017
A lovely afternoon of tea and cake was enjoyed by many service users, family friends, carers and partners at Broadstone Gardens recently as part of an initiative to improve the quality of life for older people.
Staff at the River Clyde Homes sheltered housing complex decided to use the Care About Physical Activity (CAPA) improvement programme to benefit people living with dementia in the wider community, as well as those living in the complex, by knitting over 100 Twiddlemuffs. Twiddlemuffs are knitted muffs with items attached which help to keep hands active and busy. They contain strands of ribbon, beads and various other fabric and have safe objects attached inside and out. The muffs are very therapeutic for people living with dementia and have been known to reduce stress and distress by providing a distraction and calming effect.
The Care Inspectorate were commissioned by the Scottish Government to develop and lead the Care About Physical Activity (CAPA) improvement programme for the social care sector. The programme will run until October 2018 and focuses on improving the quality of life of older people.
Eight partnerships across Scotland are engaged in the programme which endeavours to build the skills; knowledge and confidence of social care staff to enable those they care for to increase their levels of physical activity and move more often ultimately maintaining their independence and improving confidence. River Clyde Homes are delighted to have been selected as a partner and have a number of projects currently progressing across many of our complexes with the focus today being on manual dexterity and movement.
Thanks to our partners from Scottish Care, Muirshield, Crown Care, Kincaid House, Your Voice, Trust, St Margaret's Court & Centre for Independent Living for attending our event and also to the following ladies for knitting the muffs: Glynis McDougall, Fay Bonnar, Agnes Campbell, Isabel Smith and Jean McFeeley.
If you know of any person living with dementia who would benefit from a Twiddlemuff please contact Angela.Montgomery@riverclydehomes.org.uk All we ask in return is a ball of wool or some large buttons or ribbon in order that we can continue to make more.