Christmas comes early for longstanding tenants
In a pre-Christmas 'thank-you' the Inverclyde-based housing association trawled its records and discovered the 10 longest tenancies held for more than 50 years.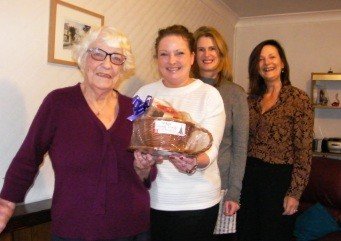 22 December 2016
It can be revealed that Miss Bridget McNelis of Greenock has the longest personal tenancy. She moved from a now demolished property on Auchendarroch Street in the East End of the town to a newly built home in the town centre in February 1961, aged 37, with her mother.
She takes up the story: "My mother Catherine had long dreamt of living in the town centre and it suited me as I worked as the secretary at St Patricks Primary School. We were delighted with our new home but, sadly, my mother passed away just a few months after we moved in."
She added: "I've seen so many changes to the town in the intervening 55 years since I moved into this house. So many parts of it are unrecognisable with all the buildings that have been demolished. But there's always been a real sense of community where I live and I love my home."
One member of the River Clyde Homes team, Elaine Cannon, who is the Service Improvement Manager for the Central area, remembers Miss McNelis from her youth. She says: "As soon as I walked through the door of the house I recognised Ms McNelis from St Patricks. She was always someone I looked up to and it was great to meet her again after all these years."
Sandra McLeod the Executive Director of Customer Services, also visited. She said: "It was a pleasure to meet some of our longstanding customers. With Christmas just around the corner the idea of delivering a small gift and the chance to introduce some the new team to our customers seemed apt. I know that in addition to the hampers, we were able to give many customers valuable support and advice around their specific needs."