Former Love and Money front man at "Two Worlds Meet" exhibition
Make sure to catch the 'Two Worlds Meet' exhibition at the Tobacco Warehouse to see former Love and Money front man and the Broomhill Project's Musician in Residence, James Grant.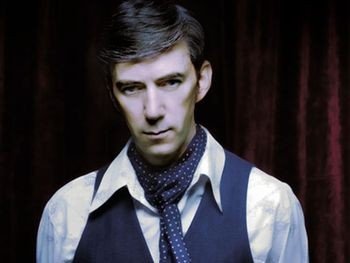 26 October 2017
James Grant, a renowned Scottish musician, singer and songwriter, became the Musician in Residence for RIG Art's "Broomhill Project" from March to September 2017.
James first started a dialogue with local residents to help him get to know the place and the people who live there. It was through these informal chats over cups of tea he was able to record people's experiences of living in the Broomhill area. However, these snap shots of life were eventually further developed, and with the help of James, local songwriters and musicians were able to record them into songs.
The weekly songwriting sessions were based at the Broomhill Art flat and at a local studio in Branchton Community Centre in Greenock. Both young and older aspiring musicians attended and with guidance from James, and in a supportive and inspiring atmosphere, they were able to develop their song writing skills and musical ability.
Ahead of this week's performance at the exhibition, and then at the Beacon on Saturday, you can read RIG Arts latest blog about his experience as Musician in Residence and also listens to a few songs inspired by Broomhill on the Broomhill Project website.
The exhibition opens Friday 27th October from 6pm - 9pm, at the Tobacco Warehouse, 2 Haig Street, Greenock, and features an evening of contemporary art, multiple performances, and free refreshments, as this years Galoshans Festival kicks off!