Greenock charity RIG Arts kick off 'Up The Broomy' project
RIG Arts have kicked off their two year long arts and regeneration project 'Up The Broomy!' with the help of singer-songwriter James Grant and visual artist Aideen Doran.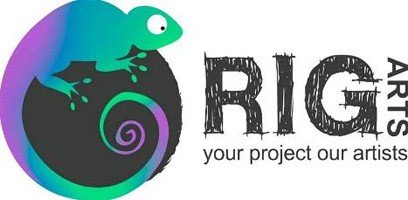 12 April 2017
'Up The Broomy!' is an ambitious publicly engaged 2-year arts project based in the Broomhill area of Greenock and funded by River Clyde Homes and Creative Scotland. It will connect local residents and professional artists in collaborations to create inspiring artworks, events and performances. Themes will be deeply rooted in the place's culture and the work will accompany the regeneration of the area currently being led by River Clyde Homes.
RIG Arts is a multi-award winning artist led, socially engaged, arts, film and media charity based in Inverclyde bringing professional artists and the community together using innovation and creativity. This project will help people of all ages learn new skills, become more involved in the development of their community and encourage citizenship and education.
James Grant has embarked on a six month Music Residency in Broomhill for the project. James is one of the most renowned and respected singer/songwriters and performers Scotland has ever produced. The Love and Money frontman has sold millions of records, toured the world and has performed with some of the best in the business; U2, BB King, Tina Turner, Steely Dan, Pete Seeger, Karen Matheson, The Prague Philharmonic.. He's written a host of critically acclaimed and hugely successful albums, most notably, Strange Kind Of Love. He continues to live in Glasgow, write and perform.
Commenting on the project, James said: "I'm delighted to say that for the next six months I'll be taking up the position of musician in residence at RIG Arts in Greenock. I want to hear the songs and stories of people in the local area and help them create something that represents them and the place they're from. Whether this be a concert, an album or something else entirely, I don't know… but I'm really looking forward to finding out."
Additionally Aideen Doran has started a six month Moving Image residency. Aideen is a Northern Irish artist currently living and working in Scotland. She has recently completed a practice based PhD in Visual Art at Northumbria University, having previously studied at the Glasgow School of Art and the University of Ulster in Belfast.
Aideen says of the project: "As a visual artist, I've always been interested in what gives particular communities or cities their sense of themselves. Local history, geography and the people themselves all contribute towards the unique specificity of a place; the buildings, the memories, the culture and the land itself. Broomhill as a place is such a rich resource to work with: through its history we can read the history of modern Scotland. Through its industrial heritage it has not only a strong sense of itself and what the people of Broomhill can do, but it's also deeply connected to the wider world.
I grew up in Northern Ireland in a town that was starkly divided between two communities, occupying the same place but living and understanding it in totally different ways. My experiences growing up have given me a keen sense of how social, political and economic conditions shape on how a locality thinks about itself, its history and its place in the world, and how suddenly this can change and a new sense of place develop. During my residency with Rig Arts, I'm interested in looking forward and exploring the possible futures of Broomhill alongside its rich past."
Karen Dick, Place, Partnerships and Communities Officer at Creative Scotland said: "The 'Up the Broomy!' project is bringing communities and artists together to celebrate and challenge perceptions of place and identity in Broomhill. We welcome James and Aideen to the project and look forward to hearing more from them, and the Broomhill community, as the residences progress."
Elaine Cannon, Service Improvement Manager (Central) at River Clyde Homes added: "We have a long working relationship with RIG Arts and this latest development is a boost to the local community. It shows that while the £26m regeneration project is making a difference to the fabric of the neighbourhood, it's about more than bricks and mortar. River Clyde Homes and RIG Arts working together has provided creative opportunities for customers and their families living in the Broomhill area, making a positive impact on their lives and we are looking forward to this developing this partnership further."
Free Songwriting Workshops with James Grant take place on Thursdays 3.30pm – 5pm in RIG's Art Flat – 12 Broomhill Court, Ann Street, Greenock, PA15 4ET.
Email RIG Arts on info@rigarts.org if you live in and/or are connected to Broomhill and would like to contact James or Aideen about the project. Keep up to date with the various other workshops from textiles, stone carving and upcycling via RIG Arts Facebook page and the Broomhill Project Facebook page and the Broomhill Project blog.