Residents celebrate Queen's birthday with 'Tech-i tea' party
Residents of Riverside Gardens belatedly celebrated the Queen's official birthday on Monday with a tea party hosted by Future Skills Inverclyde.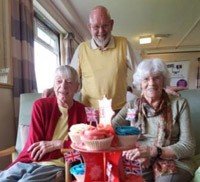 13 June 2017
The event, funded by City Gate Construction's Afternoon Tea with CGC initiative, included a 'decorate a cupcake' competition and a raffle, as well as offering resident a chance to hear more about the support on offer from future skills inverclyde.
"We had a lovely afternoon celebrating the Queen's official birthday and it was great to hear more about the help Future Skills Inverclyde can offer us," said resident Joan Smith. "My husband just bought an iPad to help us keep in touch with our son overseas, so it will defineitley be helpful to get some tips on how to work it."
Retired biologist Fran was crowned the winner of the 'decorate a cupcake' competition and later treated fellow residents to tunes on the harmonica and merlin.
Future Skills Inverclyde works with people of all ages, helping them use the internet to source a range of useful information on a variety of subjects - from setting up an email address to understanding benefit changes. FSI staff were on hand during the event to help customers with queries such as how to use a new iPad or how to attach a picture to an email and will follow up with customers to opffer further advice and support.