SURF-ing to success
Creative Regeneration Award Success for RIG Arts and River Clyde Homes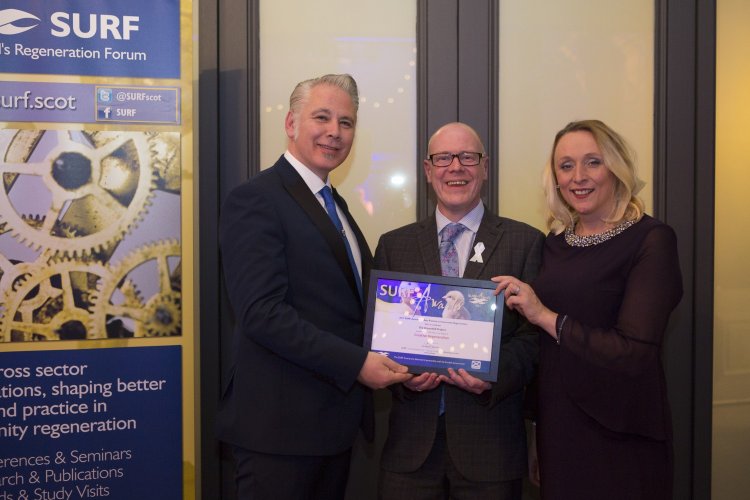 8 December 2017
RIG Arts, a Greenock based arts charity has scooped a major national award for its Broomhill Project with housing association River Clyde Homes.
The cultural activities to support a three year £26m regeneration project to transform a Greenock community comprising more than 600 homes won the Creative Regeneration award at the annual SURF (Scottish Urban Regeneration Forum) Awards for Best Practice in Community Regeneration. The award was presented by Housing and Local Government Minister, Kevin Stewart MSP.
The judging panel commented: "The Broomhill Project demonstrates a truly integrated approach to embedding creativity into the heart of the revitalisation of an often overlooked area of Greenock. The project gives a voice to those living in, and connected to, Broomhill, nurturing their creativity and celebrating their strong industrial and cultural heritage though stories songs and art."
The project has celebrated the area's rich industrial and social history and now comprises artist residencies, films, community events, murals, community gardens, and heritage projects. Local residents have benefitted from workshops on songwriting, photography, film making, painted, stained glass, stone carving, ceramics, textiles, and furniture upcycling. River Clyde Homes provided the project with a dedicated community art flat that has become a cultural hub and a place for people to meet.
Karen Orr of RIG Arts said: "We are delighted and honoured to receive this prestigious award for our work on the Creative Regeneration of Broomhill. Our success is thanks to our strong partnership with River Clyde homes and the enthusiastic Broomhill community. It is great to see the hard work of residents, artists and project workers being recognised. We look forward to continuing our work on The Broomhill Project."
Sandra McLeod, Executive Director of Customer Services at River Clyde Homes said: "This is terrific news for Broomhill and Inverclyde. The judging panel was particularly impressed by the quality of the artistic interventions as well as the strong partnerships that have developed. They identified that the project has been a catalyst for change and development, empowering the community in Broomhill and supporting a people-centred approach to regeneration. Customers have told me that this project has 'changed their lives'. Congratulations to RIG Arts who are leading the field in Scotland."
Ends
Notes:
Picture: Jason Orr and Karen Orr of RIG Arts with Kevin Stewart MSP, Housing and Local Government Minister (centre).
River Clyde Homes provided an initial three year funding grant to use a creative approach to reach residents in the community. That funding has been bolstered by additional project funding from Creative Scotland, Riverside Inverclyde, the Big Lottery, Tesco Groundworks, the People's Postcode Trust and the Scottish Government.