Waterfront living at James Watt Dock
Plans have been submitted to build 144 new homes at a landmark Greenock location. The vacant site at the entrance to James Watt Dock will be transformed by a £19m investment that could take up to two years to complete.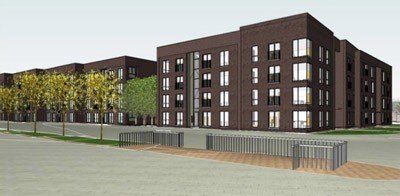 5 October 2017
Two applications seeking planning permission for the first 72 flats of the development will be considered by the Planning Board.
The housing would be a mix of mainstream housing, assisted living accommodation and wheelchair accessible properties.
There would also be a 'village green' and a children's play park.
Gary Wilson, Executive Director of Property Services said: ""We have been working on these plans for some time and are pleased that an application for this large development on a significant site have been submitted. This is a major investment in much needed modern homes in Inverclyde and contributes to our ambition to be a major developer of housing in Scotland."
He added: "Work on the first phase of 28 homes in Slaemuir has begun and at the end of the month I expect there to be a site start on 20 new homes at the Mallard Crescent area."