A housing star in the making
We're proud to report that one if it's temporary Customer Liaison Officers has been nominated for a prestigious national award. Moira Nisbet, who has been working with the housing association for the last 16 months, is one of just ten people from across the UK nominated for the 'Rising Star' award and the only nominee based in Scotland.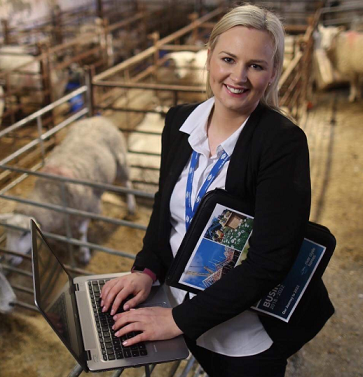 9 May 2018
The award, presented by Inside Housing and the Chartered Institute of Housing, recognises the talent and commitment of up-and-coming housing professionals across the industry who have shown real passion for their role and a desire to drive the sector forward.
Moira started her career as an estate agent covering the Inverclyde area and her experience in the field led her to join the board of Williamsburgh Housing Association in Paisley. Whilst studying towards her degree in Housing, she also spent time gaining work experience with Cloch Housing, developing a deeper understanding of social housing in Inverclyde, and with the homeless unit for Renfrewshire Council, before moving on to a role with Linstone Housing Association.
"It's obviously a great honour to be nominated for the award but it's about more than getting a pat on the back," explains Moira, "So many people have supported me along the way, offering me work experience, giving me advice on my studies, sharing their skills and knowledge – it feels great to be able to show them that the time and faith they invested in me has paid off, that I am out there making a real difference".
Moira first joined River Clyde Homes as a Housing Assistant and was successful in securing a further temporary positon just six months later as a Customer Liaison Officer working in the Post Glasgow area.
"I really enjoy my role as a Customer Liaison Officer", she explained, "Knowing I am making a difference is the best feeling. I find regeneration projects in particular appeal to me – I like the fact I get to see the need and the potential at the start of a project and follow that all the way through to the end. It's a great feeling to watch people make their homes in new builds or refurbished blocks and think 'I was part of that'."
But Moira is not one to rest on her laurels and is continuing to study for her Masters in Housing with Stirling University whilst working full time for River Clyde Homes and helping out on the family farm.
"I'm just keen to learn as much as possible so I can do the best I can", she explained, "And River Clyde Homes has been incredibly supportive. I am so lucky to have the support of a great team of managers and colleagues who are always on hand to offer advice, guidance and mentoring – it has been invaluable."
Maureen Gimby, Head of Corporate Services at River Clyde Homes, congratulated Moira saying, "I was delighted to hear about the nomination which recognises Moira's hard work and also the support River Clyde Homes has given her. It is paramount that we invest not only in our permanent staff, but that our temporary staff are also offered opportunities to develop and succeed. In her short time with us, Moira has shown that she understands the needs of our customers and is motivated to deliver a great service. I would like to wish her with success in her nomination."
Voting for the Rising Star Awards is open to the public until Friday 18th May with the winner announced on 25th June.