A warm welcome to Inverclyde
River Clyde Homes hosted a tour of Inverclyde for the Scottish Refugee Council.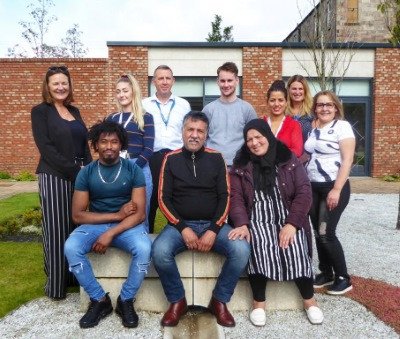 1 October 2019
We hosted a tour of Inverclyde for the Scottish Refugee Council.
Following last week's story about our visit to a Scottish Refugee Council (SRC) event in Glasgow, we were pleased to welcome a group of people to Inverclyde on Thursday. They came, with staff and volunteers from SRC, for a tour of Inverclyde to see the housing offer that was available to them and to take in some of the highlights of the area. There was a very positive response and already one person has signed up for a home with us. We look forward to welcoming them to Inverclyde in the near future!
Stevie McLachlan, who has fronted the initiative for us, part of which is a pledge to house at least two refugee families each year, said: "River Clyde Homes and the Scottish Refugee Council have a very positive relationship and we are very pleased to have entered into a nomination agreement with them. It was a real pleasure to meet people yesterday and to let them know about the services we can offer. Our staff have a wealth of knowledge and expertise that will help people settle into a safe and happy life. We are keen to make this agreement work and hopefully more families will decide to set up home with us in Inverclyde."
Grant McPhail is a Housing Development Officer with the SRC. He said: "Our staff and volunteers were really impressed with the welcome and support on offer from River Clyde Homes for the people we work with throughout the visit. No effort was spared, and the welcome was fantastic. We hope it will be the beginning of a long lasting partnership that will see newly granted refugees setting up homes and communities in Inverclyde. We are keen to see newly granted refugees access the widest possible housing options and looking outside of Glasgow is key to this. We are leading on these issues, and RCH should be proud of its positive contribution."