An Easter football eggstravaganza!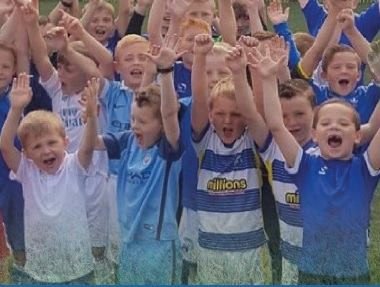 3 April 2018
River Clyde Homes, has been awarded a Radio Clyde Cash for Kids Easter Holiday Grant of £1000. The money will be used to support the Easter Football Camps being run by Greenock Morton for our customers' children.
The housing association is focused on working with communities and has recognised a gap for some fun during the Easter Holidays in the East End of Greenock.
Heather McLaughlin, Tenancy Sustainment & Support Manager at River Clyde Homes, said: "We are over the moon to have received this money, which we have decided to use to further our partnership with Greenock Morton and provide our customers' children with some welcome physical activities during the Easter break."
Debbie Fraser, Regional Charity Manager, Clyde Cash for Kids said "We are delighted to be able to support River Clyde Homes Easter Football Camps. It is important that children have activities during the school holidays and the opportunity to learn new skills".
The Easter Camps will take place over five days from Monday 9th April – Friday 13th April, 10am – 3pm (lunch provided) at Lady Octavia Sports Centre on Bridgend Road, Greenock. Any River Clyde Homes customers (tenants or factored owners) who are interested in registering their children, can contact 0800 013 2926 or visit us at Clyde Square or Broomhill Way.