Antisocial tenants evicted
Zero tolerance approach to antisocial behaviour and drug dealing results in evictions.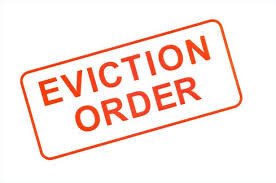 1 February 2019
Two areas of Inverclyde can now enjoy a more peaceful year after River Clyde Homes obtained orders from Greenock Sheriff Court to evict two tenants for antisocial behaviour. The housing association has now enforced the orders and recovered the tenancies.
Due to a conviction for drug dealing, the Sheriff granted the River Clyde Homes an order to terminate the tenancy of Alisa Scott, of John Street, Greenock. We also obtained an order to evict Katrina Lyons, of Finnieston Street, Greenock for persistent antisocial behaviour by her and visitors to her home.
Considerable partnership working has taken place with Police Scotland, Inverclyde Council's Community Wardens and local residents to combat antisocial behaviour and these cases highlight how effective those partnership arrangements are. Although eviction is the ultimate sanction against anti-social tenants, this outcome sends a clear and distinct message to anyone who undermines a local community with unacceptable behaviour.
Sgt Laura Stewart, Partnership Officer Inverclyde, said: "The targeting of those involved in drug dealing and associated antisocial behaviour in Inverclyde is a high priority for Police Scotland. The impact on local communities cannot be understated and we work closely with River Clyde Homes and all partner agencies to gather and share intelligence to disrupt and detect those involved.
"The court ruling, and subsequent evictions, sends out a clear message that such behaviour will not be tolerated and we will support members of the public who report criminal and antisocial behaviour to us."
Inverclyde Council's Education and Communities Convener, Councillor Jim Clocherty, said: "It is appalling that tenants have had to put up with antisocial behaviour and regrettable that River Clyde Homes has been forced down this road. Tenants who carry out antisocial behaviour need to be clear of its impact on neighbours and that you could lose your tenancy because of it. You have the power in your hands to avoid that and be a good neighbour. The Council's social protection team and community wardens work in partnership with River Clyde Homes to patrol and gather evidence of antisocial behaviour and will continue to do so to make sure that unacceptable behaviour is dealt with."
Elaine Cannon, Service Improvement Manager (Central), at River Clyde Homes said: "River Clyde Homes takes a zero tolerance approach to drug dealing and antisocial behaviour in our properties. "We work closely with Police Scotland and will always seek to evict any tenant who is convicted of drug offences and other serious or persistent incidences of antisocial behaviour. Our objective is to ensure our neighbourhoods are safe places to live and we will always support anyone who comes forward to report this kind of behaviour. Our customers should never feel powerless when faced with antisocial behaviour and can be reassured that River Clyde Homes will always act in the interests of our valued customers."
Any River Clyde Homes tenant wishing to report incidents of antisocial behaviour can do so in confidence, at any time of the day or night, on: 0800 013 2196 or you can email us.