Caring for buildings, building communities
New caretaking service launched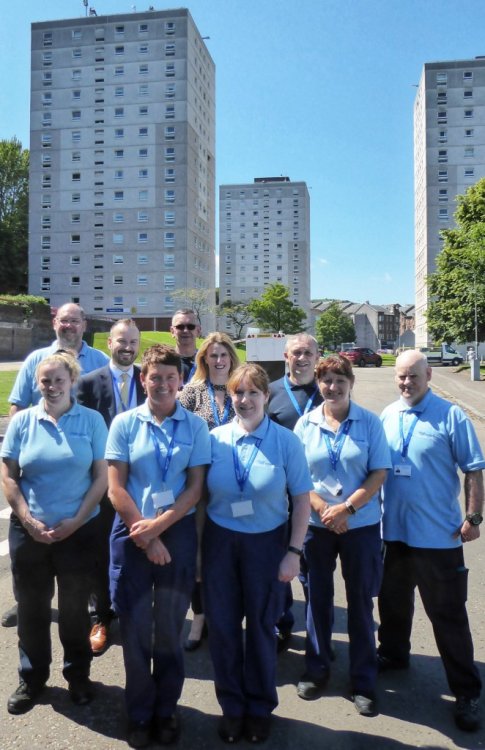 27 June 2019
River Clyde Homes' new Community Caretaking Service for multi-storey customers has been launched. It follows a full consultation with customers in the 13 blocks managed by the housing association across Inverclyde.
The enhanced new service aims to meet the changing needs and expectations of customers by providing a dedicated caretaker in each block. Following customer feedback there will be an increase in cleaning and health & safety tasks, the introduction of landing cleaning, low level handyperson services and increased tenant engagement. The Community Caretaking Service has adopted 'caring for buildings, while building communities' as its slogan.
Further improvements to the service saw responsibility for close cleaning, grounds maintenance and bulk uplifts transfer to River Clyde Homes' subsidiary company Home Fix Scotland. This has reduced service duplication in the activities provided across RCH and Home Fix Scotland, saving money and helping keep rents affordable.
One customer, Mr Vic Delussey, said: "I'm really pleased that we will have a full time caretaker at Eastern View in Gourock. The service has been good and the caretakers are always helpful providing us with peace of mind. It really adds to the sense of community to know that they'll be here all day to help us maintain our block. After all, it's our homes."
Jenny Speck, a River Clyde Homes Board member, who herself, lives in a high-rise block, said: "I am pleased that we are delivering the services customers want. A comprehensive consultation took place to find out what customers thought of the service and how they would like to see it develop. It was clear that customers wanted a dedicated caretaker in their block. It means our caretaker knows us and is in a position to report anything out of the ordinary."