Charity begins at home
Roxburgh House furniture and fittings upcycled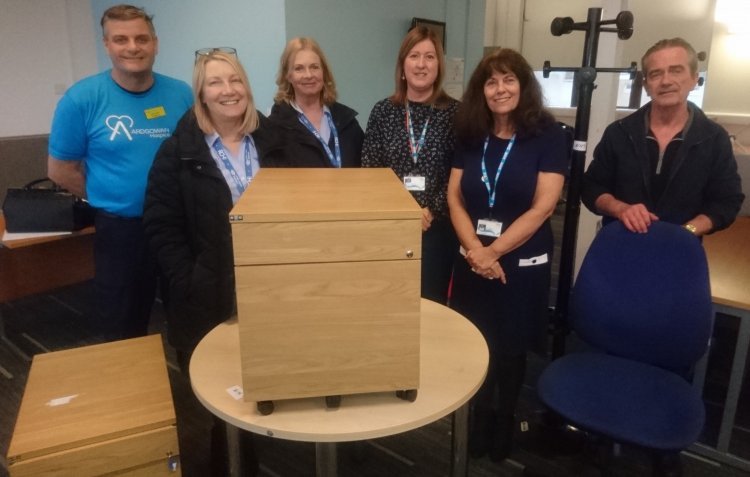 3 April 2020
Following the recent office move to Clyde View, the large amount of furniture and fittings in Roxburgh House became surplus to requirement and faced an uncertain future.
However, following a call out in the local newspaper, offering the furniture to local charities and organisations, most of it is being reused or repurposed.
It was Angela Docherty, a Community Support Officer at River Clyde Homes, who contacted Community Volunteer Services (CVS) about the furniture and they, in turn, contacted the Greenock Telegraph with the story of the stock of furniture looking for a new home. She said: "The majority was in good condition and I didn't want to see it put into landfill when it could be put to a better use for the benefit of the community."
The story generated a good amount of interest and pieces of furniture were given to several local organisations: Ardgowan Hospice, Gourock Cadets, Inverclyde Carers Centre, Inverkip Bowling Club, and Notre Dame High School.
The bulk of it was donated to NHS Greater Glasgow and Clyde. Elaine Grey is their Purchasing Lead and she said: "I have to thank you for the donation of so many fixtures and fitments. The reuse programme in our Health Board has, over the last four years, helped us avoid costs of in the region of £3.5 million. This extra furniture and equipment will be put to good use and allow more money to be made available for front line services."
Gourock Cadets Detachment Commander, Staff Sgt Scott Alexander, said: "We don't receive a lot of donations and so we were very grateful when we were given the green light. Both the desks and cupboards donated have already been put to good use and vastly improved everyone's learning environment."
Dave Andrews, Business Readiness Manager at Home Fix Scotland, added: "We really are pleased to have been able to help so many organisations before the Covid-19 crisis struck. It meant that most of the furniture was delivered to its new homes before the restrictions began. The rest will be collected when this is all over. We know that the equipment for the health service is appreciated at this time."