For a great start in life…
Financial support for valuable local charity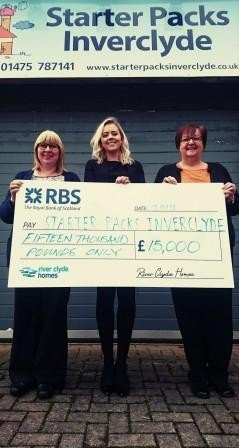 20 September 2018
Setting up a new home can be a daunting task and a costly business. One local Inverclyde charity has been providing an invaluable service for 16 years and River Clyde Homes has confirmed its long standing support and partnership of Starter Packs, Inverclyde by providing £15,000 of funding towards running costs and supplying packs to its customers.
Set up in 2002, Starter Packs Inverclyde, has already distributed around 318 Starter Packs in Inverclyde this year, 87 of which went to River Clyde Homes' tenants.
The charity, which supports new tenants and people in need by providing them with essential household goods for their first tenancy, welcomed the donation.
June Glancy, Starter Packs Inverclyde co-ordinator, said: "Our aim is to give people the best start they can get in their new homes. For many, it's their first shot at setting up on their own and as we know it can be a costly undertaking. Anything we can do to help them turn an empty shell into a place they can call home is a benefit. Donations such as this go a long way to helping some of the most vulnerable in society."
Heather Mitchell, Inclusive Communities Manager at River Clyde Homes, said: "We're proud to be supporting Starter Packs Inverclyde again this year. They provide a vital service for our customers to set up home. We hope to continue to work alongside this vital service for many years to come."
Note: Picture: Fiona MacKenzie (Starter Packs); Heather Mitchell; June Glancy.