Investing in young people
River Clyde Homes achieves Investors in Young People silver accreditation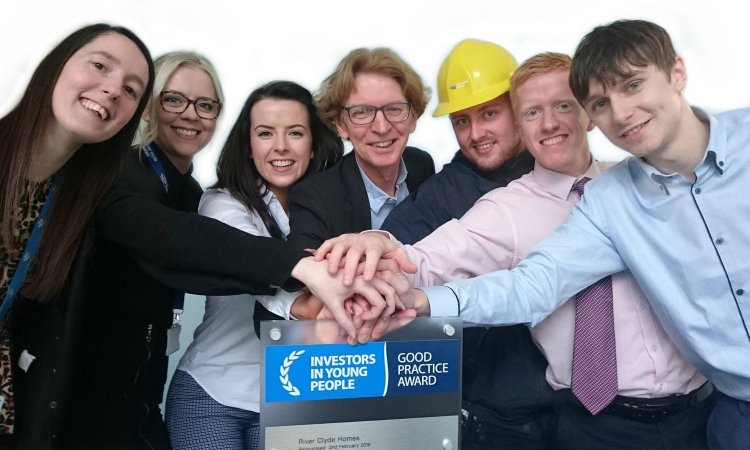 19 March 2018
River Clyde Homes has achieved the prestigious Investors in Young People (IIYP) Silver Accreditation in recognition of its commitment to the training and development of young people. The award is testament to the Inverclyde-based housing association's effective practices around youth employment.
Albert Henderson MBE, Chair of the River Clyde Homes Board and a former head-teacher, said: "Our young colleagues, apprentices and trainees are the future of our organisation. They bring passion, ambition and fresh ideas and we want to make sure they have a nurturing and supportive environment to work in."
He added: "This accreditation shows that we are truly committed to the training and development of young people and demonstrates that River Clyde Homes is an employer of choice both locally and in the wider area."
Tasmin Ross, Human Resources Assistant said: "I really enjoy working at River Clyde Homes and I think it's a great company for young people to work for. It is hard for graduates to find good jobs that will give them the experience they need to move forward in their career."
She added: "River Clyde Homes has given me the opportunity to work on a wide range of projects and has enabled me to expand my skills and experience – all of which will serve me well in the future."
Peter Russian, Chief Executive of Remarkable (the home for Investors in Young People in Scotland), said: "This is a fantastic achievement for River Clyde Homes and I and the whole IIYP team would like to wholeheartedly congratulate them. The second generation framework not only recognises and supports organisations in the employment of young people, but now offers accredited organisations the additional stretch of achieving silver accreditation."
Picture (l-r) Lauren Newman, Heather McLaughlin, Tasmin Ross, Albert Henderson, Ryan Elder, Thomas Reid, Jamie Reilly