Lighting Up Inverclyde
River Clyde Homes big Christmas light switch on!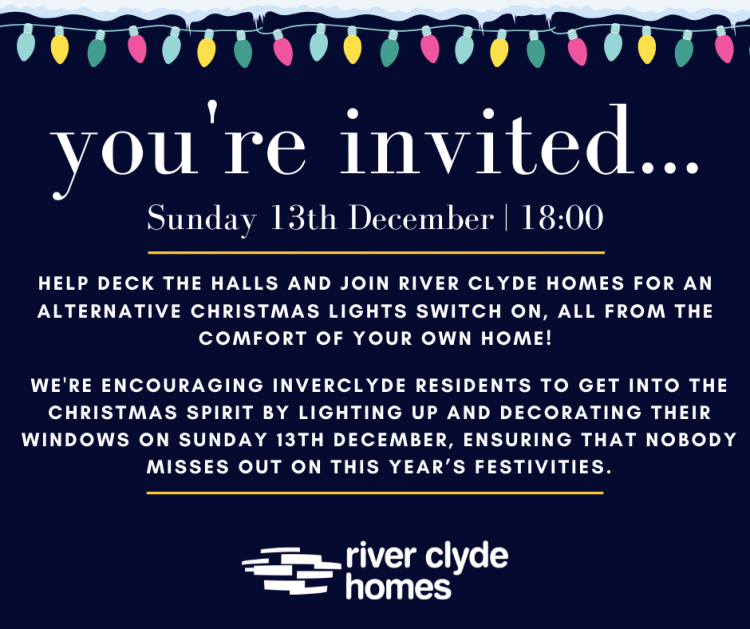 8 December 2020
River Clyde Homes is urging residents to get into the Christmas spirit and help spread the festive cheer by taking part in their own alternative Christmas lights switch on, all from the comfort of their own home.
With public events across towns and cities being cancelled due to lockdown restrictions and social distancing guidelines, Inverclyde's largest housing association is inviting people to illuminate their windows and homes at 6pm on Sunday 13th December. It's just a fun way of ensuring that nobody has to miss out on the community experience of the Christmas festivities.
Many people will have their decorations and lights set up and switched on already, but it would be great fun if, at 6pm on Sunday, Inverclyde, as one, suddenly lit up with festive cheer. So even if you have yours already, you could switch them off for a few minutes and put them back on.
Sandra McLeod, Executive Director at River Clyde Homes said: "This year has been like no other and the pandemic has affected everything we do, not least our Christmas preparations.
"But we know how much people look forward to showing their festive side and we're all in need of a little Christmas magic right now.
"Supporting the Christmas light switch on from the comfort of your own home is a safe, alternative way to bring the community together."
Scottish Fire & Rescue Service has issued safety advice that is worth reading before you set up your Christmas lights.