River Clyde Homes scoops Scottish Energy Efficiency Award
River Clyde Homes is celebrating success at the Scottish Regional Energy efficiency awards after scooping the prize for best small scale project.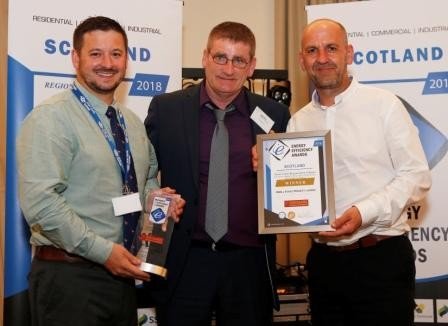 19 July 2018
The housing association was nominated for the award by Union Technical Services for a project which saw 250 hard to heat homes across Inverclyde receive upgraded insulation. The work involved the extraction of old cavity wall insulation and infill of waterproof insulation beads which offer improved insulation to properties whilst allowing the building to breathe.
Alongside improving the thermal efficiency of the homes included in the scheme, the project aimed to reduce heating costs and raise living standards for RCH customers. It was financed through the Energy Company Obligation Scheme which sees energy providers fund works which improve energy efficiency and reduce carbon emissions.
The project is part of River Clyde Homes' commitment to ensure that all existing housing stock meets the Energy Efficiency Standard for Social Housing (EESSH) ahead of the 2020 Scottish Government targets in order to reduce energy consumption, fuel poverty and the emission of greenhouse gases. The standard will contribute to reducing carbon emissions by 42% by 2020, and 80% by 2050, in line with the requirements set out in the Climate Change (Scotland) Act 2009.
"We're delighted to receive this award and would like to thank Union Technical Services for their nomination" said David Falla, Head of Asset Planning and Development at River Clyde Homes."
"The re-insulation project we undertook across Inverclyde might be small in scale, but it is having a huge impact, improving lives and places for our customers. This is part of our ongoing commitment to offering quality homes at affordable rents, whilst helping to tackle fuel poverty."
Kirsty Brown, Head of Business Development at Union Technical Services explained their nomination of the housing association for the award, saying, "River Clyde Homes was able to deliver a fantastic project which shows real benefits to their customers and this award recognises the team who worked hard to deliver the project."
"We were impressed by the way that the senior management team was supported by a number of individuals in the field and the back office who ensured that programs of work was delivered effectively, with clear communication with customers and a wealth of technical knowledge which ensured that the funding was utilised to its full potential."
Pictured from the left is David Falla from River Clyde Homes; in the middle is a representative from Crossgates Gas Services and Maintenance Ltd, who sponsored and presented the award. On the right is Colin Caitens who is from Union Technical Services.