River Clyde Homes supports Get Online Week!
River Clyde Homes is proud to support #GetOnlineWeek!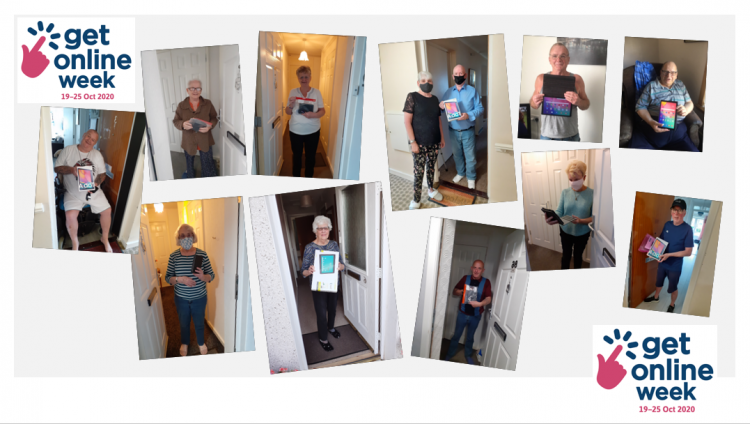 22 October 2020
Led by the Good Things Foundation, the annual campaign runs from 19 to 25 October and is aimed at increasing people's confidence using computers and the internet.
Staying in touch, whilst protecting family, friends and loved ones is important and can make a big difference to people who are feeling alone and isolated as a result of the coronavirus.
For many, a simple video call could help bridge that gap and allow them to socialise remotely.
Despite this, more than 11.9 million people in the UK lack essential digital skills and a further 4.1 million have never been online.
To combat this, River Clyde Homes' Digital Inclusion team have been encouraging residents to take advantage of technology in the comfort of their own home.
From help managing their money and shopping online to video calling family and friends, the virtual sessions can provide residents with an opportunity to learn new skills.
Following a successful application to the Scottish Governments Wellbeing Fund, River Clyde Homes have distributed a range of devices, including tablets, Kindles and mobile Wi-Fi, to vulnerable and isolated older tenants to allow them to get online and stay in touch with family and friends.
Heather Mitchell, Communities Manager at River Clyde Homes said: "This year, more than ever, has shown us just how much of a difference the internet can make to our lives. As we become more and more reliant on technology, it's important that all of our residents have access to right tools and skills necessary to carry out daily tasks.
The feedback from our residents have been overwhelmingly positive and it's great to see it making a real difference to people everyday lives. Get Online Week is a great opportunity to remind tenants of the help available to them, whether that's with applying for jobs, paying bills or online shopping!"
For free one-to-one and group support contact our Digital Inclusion team today on 0800 013 2196 or get in touch by email at digital.inclusion@riverclydehomes.org.uk.