Start your New Year debt free
For many of us Christmas is an expensive and often stressful time of the year but you don't have to add rent arrears to your worries by remembering to keep track of your spending and pay your household bills on time.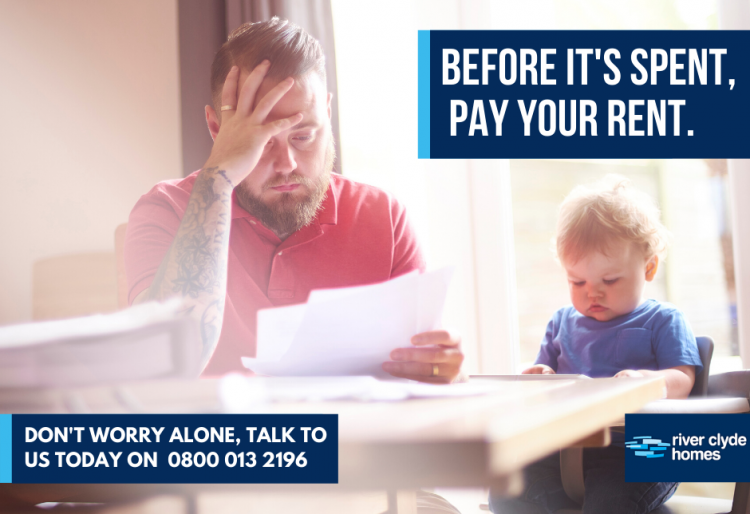 3 December 2019
To raise awareness of this, Inverclyde Housing Association River Clyde Homes, has relaunched its campaign 'Before it's spent, pay your rent' to remind you of the risks associated with rent arrears and to prevent you struggling with your finances for the rest of the year.
Most of us are aware that long-term non-payment of rent can result in the loss of your home, however, few understand that failing to pay rent in full or on time can also set them on a path to long-term debt, particularly at this time of year when it's harder to keep control of their spending.
Julie Allison, Service Improvement Manager said "Before you start planning parties and buying presents, please think carefully about how much you can afford to spend and avoid the risk to keeping a roof over your head by missing rent payments. In most cases, rental arrears grow quickly and are often difficult to pay off, leaving you saddled with debt late into the New Year. Whilst Christmas is an expensive time of the year, withholding rent can also affect our ability to deliver high-quality housing services and community led-initiatives in your area."
By engaging with tenants at the earliest opportunity, housing staff can work with them to prevent debt arising. With an abundance of help available 24/7, River Clyde Homes would like urge those struggling to get in contact.
Heather Mitchell, Communities Manager said "For many people the temptation at Christmas is to over commit and spend money they don't have on things they don't need. With records showing that each year rent arrears peak over the Christmas period, now is the time to seek free financial advice. Contacting our Financial Wellbeing Team at the earliest opportunity means that customers can work with staff to prevent long term problems and look forward to starting a new year debt free."
If you're struggling and think you could benefit from any additional support, contact one of our dedicated customer experience team on 0800 013 2196.