Supporting Inverclyde voluntary sector awards
We're happy to be once again supporting the Reach For The Stars Awards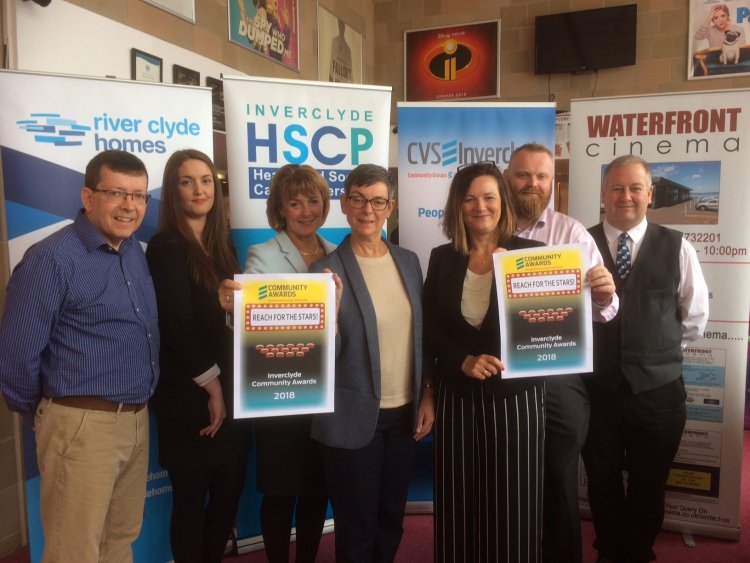 20 June 2018
River Clyde Homes is happy to be once again supporting Reach for the Stars - the Inverclyde Community Awards 2018. Entries are now open, for the event which torecognises and rewards the achievements of volunteers and voluntary organisations across Inverclyde.
We are sponsoring the Young Volunteer of the Year category.
The annual awards initiative is run by CVS Inverclyde, which supports voluntary organisations, community groups, charities and social enterprises, as well as volunteering in the area. Sponsors joined CVS Inverclyde for the launch at the Waterfront Cinema, itself a sponsor and also the venue for the big screen awards night this November.
Volunteering is the focus for Reach for the Stars 2018, to tie in with CVS Inverclyde's new portal, www.volunteerinverclyde.com, to help volunteers and placement organisations and encourage more people to volunteer in the local community. The five categories are Volunteer of the Year, Young Volunteer, Volunteer Team, Volunteer Leader and Voluntary Organisation of the Year.
Category sponsors are the Oak Mall Shopping Centre, Waterfront Cinema, River Clyde Homes, Inverclyde HSCP and Inverclyde Council. Support is also being provided by West College Scotland and its HND and HNC Creative Industries Television students, who will film the finalists as part of their curricular activities for screening at the awards ceremony.
"We thank the sponsors and West College Scotland for joining with us to recognise and reward the great work of local volunteers and voluntary organisations through our CVS Inverclyde Community Awards, Reach for the Stars," said Ian Bruce, Chief Executive Officer of CVS Inverclyde.
"There are hundreds of inspirational individuals and teams, charities, community groups and organisations here in Inverclyde - people who are helping their community in many remarkable ways. Reach for the Stars will celebrate their valuable contributions to local life, work and play, as well as to the Inverclyde economy."
Entry deadline is Friday 24 August, when three finalists will be shortlisted in the four volunteer categories by independent judging panels. Finalists will be invited to the big screen awards ceremony with host, TV presenter Jean Johansson, at the Waterfront Cinema on Thursday 15 November, where the winners will be revealed.
The Voluntary Organisation of the Year category, sponsored by the Oak Mall Shopping Centre, will have up to five finalists shortlisted by judges, before being opened up to a People's Vote at the CVS Inverclyde Third Sector Conference in the Beacon Arts Centre on Friday 7 September.
Entry forms can be downloaded from www.cvsinverclyde.org.uk/what-we-do/inverclyde-community-awards or picked up from CVS Inverclyde's town centre base at 75-81 Cathcart Street, Greenock PA15 1DE, tel: 01475 711733.