The good ship SS John Galt
Grand cruise a great success for Greenock sheltered housing complex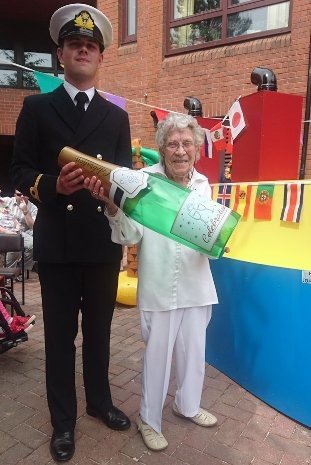 29 June 2018
A very special cruise ship arrived in the Greenock sunshine this week, allowing residents at one Inverclyde sheltered housing complex to experience the thrill of the high seas whilst keeping their feet firmly on dry ground.
The 'Grand Cruise' on the SS John Galt took place in the gardens of John Galt House and was organised by staff at the complex as a fun afternoon for residents and their friends and family to help raise funds for social activities. As well as sampling the delights of the on-board buffet and specially mixed mocktails, residents had the opportunity to take part in side show games, have their fortunes read and show off their dance moves to tunes provided by DJ Stu Mack.
A ship, built by River Clyde Homes' joiners, was launched by long-time resident Margaret Hamill, who said: "It was a super day, everybody enjoyed it. The staff put a lot of hard work into organising the event but it has paid off. I had four friends with me and they thought it was a great success."
"There is a real community here," explained Mary Harkins, Extra Care Support Warden at River Clyde Homes, "Residents love their social events and we just wanted to put on something which would make them happy and raise funds for more events and entertainment in the future.
"We're so grateful for the support we received from Tesco, HSPC, Greggs, Skelmorlie Elderly Forum and West College Scotland, Morton Community and for the amazing team effort from everyone involved at River Clyde Homes, including the joiners who built us our very own cruise ship. It was a fantastic afternoon and it has given the team a real buzz to be able to give something back to our residents."
Sandra McLeod, Executive Director of Customer Services, said: "I am incredibly proud of the hard work and commitment of the staff involved in the Grand Cruise. It was a fantastic event and colleagues went above and beyond to provide a memorable occasion which will have very real benefits for our customers by supporting even more communal activity at John Galt House. This is a great example of our staff living our values and striving for happy customers and positive people."
And here's what some of the residents who took part had to say:
May McDougall: "I really enjoyed my day. My sister joined me and had a great time. She said she wishes she lived in John Galt House."
Bethia Hopkin: "I only moved here a few months ago and I am over the moon to be living in John Galt House and my family are delighted. They are happy that I am getting involved in all the activities in the complex and have had a fantastic day at the event. It was super fun."
Cathy Ross: "I was in hospital recently and feeling a bit down as my legs were still really sore. I had a smashing day, having fun with all my friends and neighbours in John Galt House. I am so glad I came along as it put a smile back on my face."
The event raised over £1,000 which will help fund activities and trips for residents.
"The first order of business is to buy a new bingo machine since ours broke last week," explained Fiona Sorrell, also an Extra Care Support Warden at River Clyde Homes, "Our weekly bingo sessions are very popular with residents, along with our games afternoons and keep fit sessions. The money raised will help us continue weekly activities like these as well as providing trips for residents and a great boost to the residents' Christmas party fund."
Our friends at Inverclyde TV, based at West College, Greenock made a fantastic film of the day's events. You can watch it here