Financial Wellbeing Service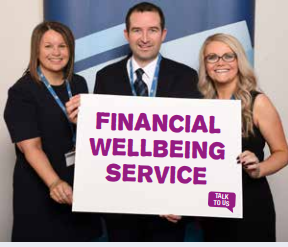 Last year we helped customers gain over £2.45 million in extra benefits
Our experienced staff provide information, advice and representation for River Clyde Homes tenants on wide range of welfare rights issues.
The advice is free and confidential and an appointment is not always necessary. We can also visit you in your home at a time that is convenient for you.
The main areas that we can offer support are:
Help to make new claims and report changes in your circumstances for all benefits including any new devolved benefits offered by the Scottish Government
Help you understand and comply with all Department for Work and Pensions, HM Revenue and Customs or Inverclyde Council requests for information
Advice and assistance to access additional grants or funding
Assistance to resolve benefit problems or challenge decisions, submit reconsiderations and appeals e.g. Inverclyde Council, DWP, HMRC
Benefit entitlement calculations tailored to your own personal circumstances
Signpost and make referrals to other organisations
Please contact our Financial Wellbeing officers if you feel we can offer any advice or support on 0800 013 2196.