Meet The Neighbours
People who love high-rise living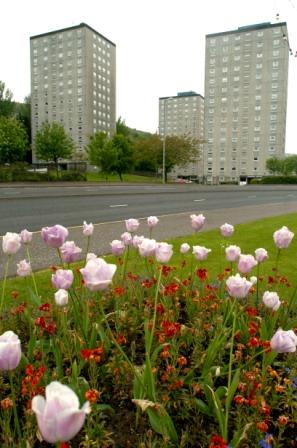 High-rise living remains a popular choice for many of River Clyde Homes' customers.
Given the topography of Inverclyde, high-rise development became a popular solution to the housing crisis for the three county councils in the 1960s. The first blocks were opened in Greenock c.1964 on Grieve Road.
Inverclyde became known as the 'Hong Kong of the Clyde Coast' as a result of the number of multi-storey blocks that were built. At one stage there were 32.
Today, 13 blocks remain but all are popular, all have been refurbished and many are designated for specific groups within the Inverclyde community.
This project aims to hear from some of those people who enjoy high-rise living and to find out what makes these buildings home.
Picture: Port Glasgow's multis: Heather, Rowan and Thistle Courts.
Chris Smith, Prospecthill Court, Greenock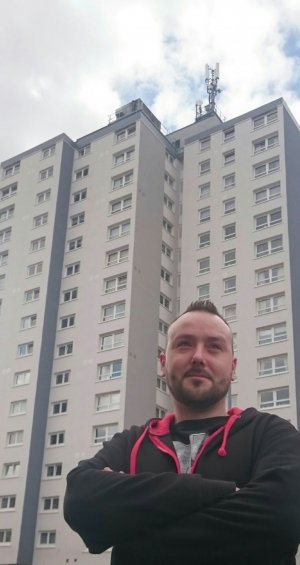 Chris Smith moved into Prospecthill Court in the Broomhill area of Greenock in January 2018. By his own admission, he loves his flat.
He had been living in a private let in the East End of the town for 10 years in what he describes as 'pretty poor conditions'. He says: "I had noisy, troublesome neighbours and my flat was continually getting broken into."
His friend had read about the refurbishment of the Broomhill flats and encouraged Chris to make enquiries. "I spoke with Joyce, one of the housing officers, who took me through the process of applying and within three weeks, I had moved in to a flat with a great view up the river. I never thought I'd say this, but it's now a pleasure to do the dishes as I stare out the window."
Coming from a private furnished let, Chris had very little by way of furniture but River Clyde Homes was able to help him out with a couple of couches and a cooker from a flat that had been used as temporary accommodation during the regeneration works. "The flat was already carpeted," says Chris. "And Joyce put me in touch with a local voluntary organisation called Starterpacks Inverclyde who helped me with some bedding, kitchen equipment and towels. They were brilliant and I can't thank them enough."
Chris really does love his flat: "I feel safe and secure here; with the cladding and new heating system, the place is really cheap to heat, I have fantastic neighbours who have made me feel welcome and it's only a short walk to the town. I feel as though this is the start of a new chapter in my life."